NEW IMAGES OF COMET BORISOV: It's definitely a comet. New color images from the Gemini telescope atop Hawaii's Mauna Kea volcano show that C/2019 Q4 (Borisov) has a tail. "We really had to scramble for this one since we got the final details at 3:00 am on Sept. 9th and were observing it by 4:45!" says Andrew Stephens of the Gemini Observatory who coordinated the observations.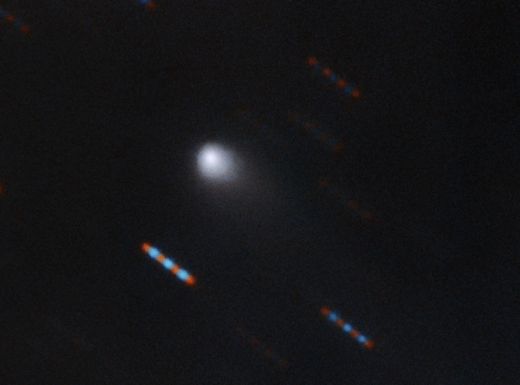 There are thousands of comets in the Solar System, but this one is special. Comet Borisov is interstellar. The newly-discovered comet is following a hyperbolic orbit with an eccentricity greater than 3.7. This means it is unbound to the sun. Indeed, Comet Borisov is moving 30.7 km/s (68,700 mph) too fast for the sun's gravity to hang onto it. It must have come from the stars.
This is the first time an interstellar visitor to our Solar System has clearly shown a tail due to outgassing. The only other known interstellar visitor was 'Oumuamua in 2017-2018, a cigar-shaped object with no visible comet-like emissions. 'Oumuamua's shape and apparent lack of outgassing led some credible scientists to wonder if it might be an alien probe. The Gemini photo of Comet Borisov shows that it, at least, is a natural object.