COSMIC RAYS ARE INTENSIFYING: Cosmic rays have been intensifying for more than 4 years. On Dec. 5th and 6th they surged within a percentage point of the Space Age record, according to data from neutron counters at the University of Oulu's Cosmic Ray Station in Finland: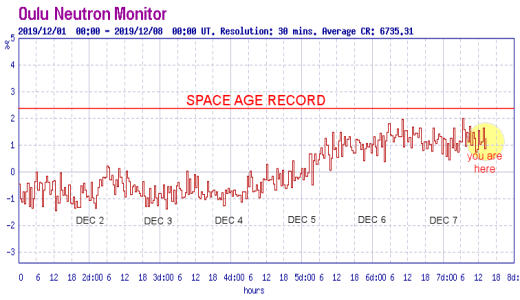 The reason for this increase is Solar Minimum–underway now. During Solar Minimum, the sun's magnetic field weakens, allowing more energetic particles from deep space to penetrate the solar system. The current Solar Minimum is one of the deepest (perhaps the deepest) of the past century. Increases in cosmic rays are to be expected. The only question is, how high will they go? You can monitor daily neutron counts right here on Spaceweather.com.
To find out if the cosmic ray surge is being felt at mid latitudes, yesterday Spaceweather.com and the students of Earth to Sky Calculus launched a cosmic ray balloon to the stratosphere over central California: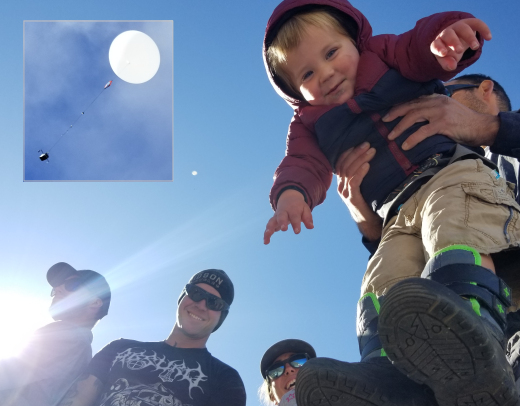 Above: You're never too young to start measuring cosmic rays
We've been launching these balloons almost weekly since 2015 to monitor atmospheric radiation over California. This payload landed in a remote Nevada desert more than 50 miles from the launch site. A recovery team is en route to retrieve the payload and its sensors now. Stay tuned for data!