POLAR STRATOSPHERIC CLOUDS: For the second day in a row, rare polar stratospheric clouds (PSCs) have appeared over Sweden. "I couldn't believe my eyes when I looked out the window this morning," reports Jordan Herbst of Earth to Sky Calculus, who is in Abisko, Sweden, for a series of cosmic ray balloon launches. "I rushed outside, post-holing through deep snow to set up my camera with a good view of Lapporten." This image shows the clouds floating over Mt. Nissuntjårro: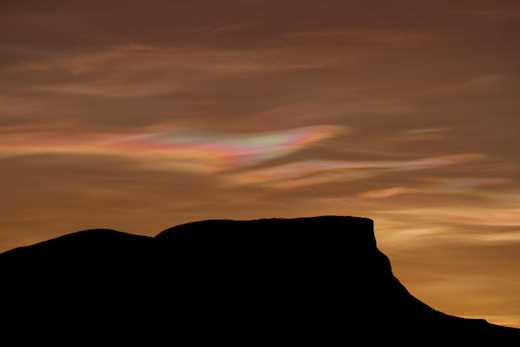 "Just yesterday I heard about these clouds for the first time–and today I got to shoot an incredible display," he says. "I'm so glad to be here in the Arctic!"
Polar stratospheric clouds are very rare. Normally the stratosphere has no clouds at all. PSCs form when the temperature in the Arctic stratosphere drops to a staggeringly-low -85 C. Then, and only then, sparse water molecules begin to coalesce into tiny ice crystals — the "stuff" of PSCs. High-altitude sunlight shining through the crystals creates intense iridescent colors.
In a typical Arctic winter, PSCs appear two or three times at most. This winter is different. The clouds have nearly filled Arctic skies on dozens of occasions, with some longtime residents describing it as the best outbreak in a generation.