COMET ATLAS AND THE OWL NEBULA: Astronomers are keeping a close eye on Comet ATLAS (C/2019 Y4). Currently beyond the orbit of Mars, the dirty snowball from deep space is falling toward the sun–and it has recently tripled in brightness, possibly signalling an explosion of dust and gas in the comet's core. In late May, it will swoop inside the orbit of Mercury and could become very bright, indeed.
First, though, Comet ATLAS has a date with the Owl Nebula. Michael Jäger of Weißenkirchen, Austria, photographed the comet approaching the Owl on Feb. 21st: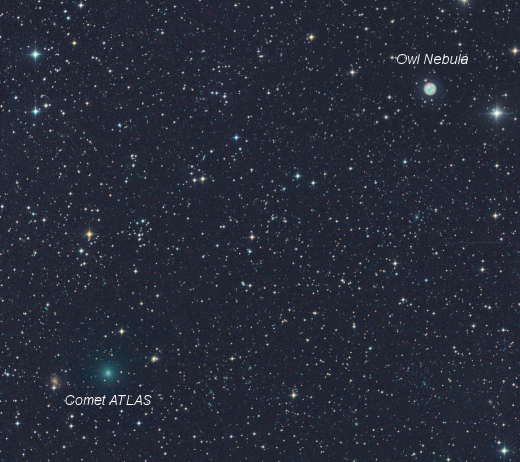 "On Feb. 24-25, the nebula and the comet will be about 1 degree apart," notes Jäger. Can you say, "photo-op?"
The Owl Nebula is an expanding shell of gas ejected from an old red giant star about 2,030 light years from Earth. Astronomers call such shells "planetary nebulae" because their spherical forms look like planets. In fact, they are signposts of dying stars.
Comet ATLAS may be the signpost of … a dying comet. Its orbit is strikingly similar to that of the Great Comet of 1844, which was visible in broad daylight when it passed very close to the sun in the 19th century. Comet ATLAS may be a fragment of that Great Comet–or perhaps a sibling comet, spawned by an even greater parent disintegrating 1000+ years ago.