NOCTILUCENT CLOUD SIGHTINGS: Around the north pole, noctilucent cloud (NLC) season is underway. NASA's AIM spacecraft spotted the first NLCs from polar orbit on May 17th. Last night, people on the ground saw them, too. Kairo Kiitsak sends this picture from Simuna, Estonia: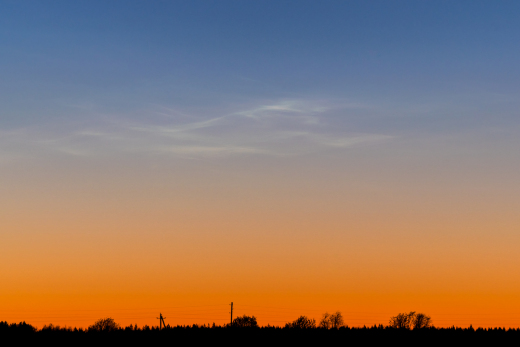 "This is something new for me," says Kiitsak. "I've seen NLCs before, but never so early in the season." The clouds were also sighted in Helsinki, Finland and Jelgava, Latvia.
NLCs are Earth's highest clouds. Seeded by meteoroids, they float at the edge of space more than 80 km above the ground. The clouds form when summertime wisps of water vapor rise up to the mesosphere, allowing water to crystallize around specks of meteor smoke.
The 2020 NLC season is beginning ahead of schedule. AIM's detection of clouds over the north pole on May 17th marks the 2nd-earliest start to a season since the spacecraft was launched 14 years ago. Ground-based observers often don't see their first clouds until early June.
Northern sky watchers should be alert for more NLCs in the evenings ahead. The clouds can appear after sunset when the sun is more than 6o below the horizon: diagram. They glow electric-blue against the darkening twilight sky and are often filled with finely-structured ripples sculpted by rarefied winds at the edge of space.
Update–Is a rocket to blame? Spaceweather.com reader Ruslan Merzlyakov points out that "last night's bright noctilucent clouds might be due to a technological cause. A Soyuz rocket was launched from Plesetsk Cosmodrome [on May 22nd at 10:31 Moscow Time]." Icy rocket exhaust can catch rays of high-altitude sunlight much like natural noctilucent clouds do, creating similar displays. Stay tuned for updates about this possibility.